INVERBOOST UX Pool Heat Pump
The INVERBOOST UX Pool Heat Pump is specially adapted for heating small swimming pools and spas. It offers excellent performance allowing it to restore up to 80% natural and free energy. The INVERBOOST UX Pool Heat Pump offers heating that is both efficient and very economical.
Thanks to its reversibility, it is able to heat or cool water and operate from -20°C outside temperature. The INVERBOOST UX Pool Heat Pump will thus be perfectly suited for heating over an extended period from March/April to September/October (depending on the region).
COP efficiency of 16 – the highest COP in pool heat pumps. Caribbean water temperatures in your own pool have never been so cheap and easy.
Sizing of the INVERBOOST UX Pool Heat Pump
The sizing of a heat pump is decisive in order to take advantage of all its advantages: efficient heating, low electricity consumption, long life, and silent operation. Conversely, choosing too low a power will cause the opposite effects: long and sluggish heating, high electricity consumption, reduced lifespan, etc.
The table below guides you in choosing the right power according to your region and the volume of your pool.
These calculations take into account the presence of an abubble cover on the pool surface, especially at night. Without cover, the power of the heat pump must be doubled because of the heat losses to be expected.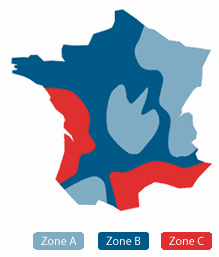 INVERBOOST UX Pool Heat Pump -Touch Control Display
Control Your Pool Pump & Heater Via Your Phone From Anywhere In The World!
INVERBOOST UX Pool Heat Pump is perfect for homeowners who want to control their backyard pool from their smartphone for convenience and cost savings.
Once your pool heater has been installed, simply download our ALSAVO PRO App and you'll be able to monitor, control, and manage your home pool equipment easily.